We're not quite sure why it is, but most of us love opening up some festive jammies come Christmas morning. Perhaps it's because it gives us more of an excuse to spend time lounging around in our pyjamas, or maybe it's because they tend to be extra cosy. Whatever the reason, if you are suffering from a lack of gift inspiration, they can be a great gift-saver!
And happily enough, the designers seem to know this, meaning that you can really find some adorable and cute versions out there and with such a range of prices that no matter your budget, you can find something to suit you. Read on to find out our favourite Xmas jammies for him, her and the kids.
For Him
Have a very Grinchy Christmas thanks to these awesome PJs! Soft, comfortable and the perfect loungewear with of course that famous Dr Seuss Christmas humbug, these pyjamas are such a bargain since they actually come from Primark. (Remember those slippers we were talking about here?) Retailing at just £13(!), he's going to love these this Christmas.
For Her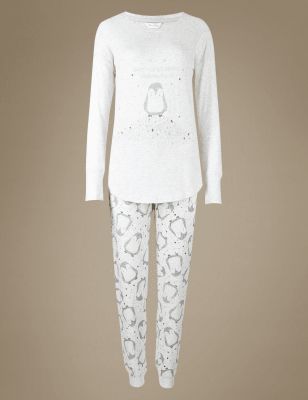 If you want Christmas jammies and you want them now, then we recommend checking out the Marks & Spencer site since they actually have a dedicated page to them meaning with just a few clicks you can nab yourself a gorgeously cosy pair. We are loving these cute grey and white long-sleeved penguin PJs that are going to look great when lounging about over the festive period. With a high cotton content and bridging that area between nightwear and loungewear, at just £25 this will put a smile on her face this Christmas.
For Kids
Kids Christmas pyjamas have to be pretty much best of the bunch of course, and it wouldn't be Christmas without gifting them a pair! For little girls we think that this Santa Paws set is ideal with its pretty pink colour and super cute cat motif. We found it over at Gap and it's available in ages 4 to 13 – priced at £29.95, it's sure to get snapped up quick so get shopping now.
Also from Gap, we found this super funky festive shark PJ set, because why not?! The matching top and bottoms are sure to keep them cosy whilst also being super fun too, so we have to say that we're fans. Just like with the girl's set, it is available for sizes 4 to 13 and cost £29.95.
For Baby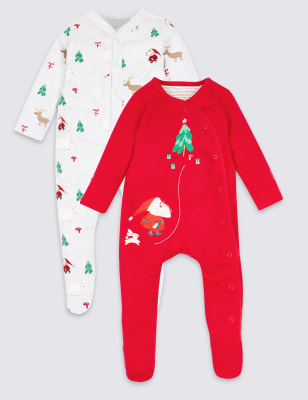 We don't see why baby can't get in on the Christmas PJ action too so we're suggesting these cute Christmas sleepsuits that are also from M&S. At a very reasonable £14 too and available from newborn to 18 months, baby's first Christmas is going to be super cute!
Christmas jammies are always going to be a welcome gift so start browsing online and hitting the shops to find the cutest ones out there now.